There are three types of pill with imprint code 512:
1. APAP 325 MG / oxycodone hydrochloride 5 MG Oral Tablet: This medicine is a white round scored tablet which is stamped with a 512 imprint code. It is used to treat moderate to moderately severe pain. Oxycodone is a semisynthetic opioid analgesic and Acetaminophen also belongs to drug class analgesic and an OTC medication for treatment of fever. So the combination of Oxycodone and Acetaminophen can produce better effects for treating pain.
2. Meloxicam 7.5 MG Oral Tablet: This medication is a round, yellow and biconvex tablet which is imprinted with 512 identification number on one side and plain on the other side. Meloxicam belongs to NSAID which is standing for Nonsteroidal Anti-inflammatory Drug, it is featured by analgesic and anti-inflammatory, therefore the main usage of this medicine is to relieve the symptoms of rheumatoid arthritis, osteoarthritis and fibromyalgia.
3. Divalproex sodium 250 MG Delayed Release Tablet: This drug is a pale brown, elliptical enteric film coated tablet which is marked black colored code "512" on one side and plain on the other side. Divalproex sodium is mainly used to treat bipolar disorder, epilepsy, migraine headaches and hyperekplexia.
Details on pill with imprinted 512
APAP and oxycodone hydrochloride Oral Tablet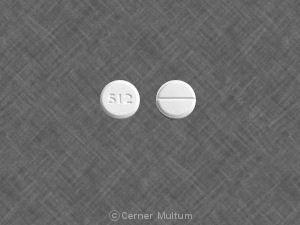 Strength: Rx drug with Acetaminophen USP 325 mg and Oxycodone Hydrochloride USP 5 mg for each tablet.
Package: Each Oxycodone and Acetaminophen tablet is available as 100, 120, and 500 in one bottle, however it may vary with different suppliers.
Dosage: When using for pain relief, it should be taken one tablet each time and can't exceed 4 times one day. Some patients will be tolerant to this medication due to more severe pain, it may consider to exceed the recommended dosage following the doctor's direction, but the maximal dosage in one day should not be more than 12 tablets.
Meloxicam Oral Tablet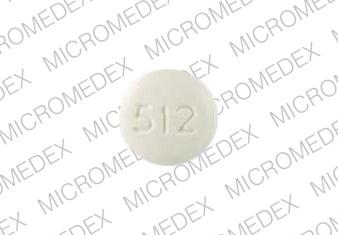 Strength: Each Meloxicam tablet contains 7.5 mg meloxicam.
Package: It is supplied by 30, 60, 90 and 120 tablets in 1 bottle.
Dosage: It is recommended for patients with osteoarthritis and rheumatoid arthritis to take 7.5 mg on time each day at the initial stage, if it is suitable for their needs or beneficial for relief, it can consider to adjust the dosage to 15 mg once a day. But it is strongly recommended that you should not take more than 15 mg daily.
Divalproex sodium 250 MG Delayed Release Tablet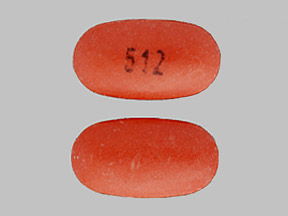 Strength: Each Divalproex sodium contains 250 mg Valproic acid.
Package: It is available as follows: 10 in one box, unit dose. 10 in 1 blister pack.
Dosage:
1. Dosage for Mania: In the initial stage of therapy 750 mg once a day is the recommended dose for an adult. When to maintenance dose stage, it should be quickly increased to achieve the lowest therapeutic dose.
2. Dosage for Epilepsy: Monotherapy of Complex partial seizures–10-15 mg/kg/day for adults and children over 10 years at the stage of initial therapy. When to titration, patients should increase the dosage by 5-10 mg/kg/week to achieve optimal clinical response. Usually 60 mg/kg/day is the maximum dosage.
3. Dosage for Migraine: It is recommended to be administered orally 250 mg every 12 hours one day. Higher doses can't get more greater efficacy in clinical trials, however some patients may be beneficial if their doses are up to 1000 mg one day.