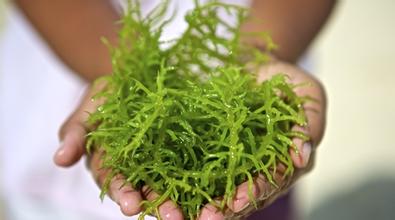 Seaweeds are a rich source of vitamins A, B1, B2, B6, B12, C, E, pantothenic acid, folic acid and niacin. They also supply over 60 trace elements and 12 minerals including sodium, potassium, calcium, magnesium, phosphorus, iron, zinc and manganese. They have been used since ancient times as a means for food and healing and in recent times have become a popular method used in spas, for the oxygenation, toning, revitalization of the body and firming of the skin.
The process of having a seaweed body wrap is very simple and takes relatively little time.
Your salon specialist will mix on average 250g of seaweed body wrap powder with approximately 200ml hot water. The resulting substance should have a smooth consistency and a cream like texture to it.
You will be asked to remove your clothing and will in most cases be offered disposable underwear. At the commencement of treatment a sugar or salt scrub is used to get rid of any dead skin cells and to open up the pores. Whilst you are standing, you will have the mixture applied to your body by either brush or hand, beginning at the top of your heel and finishing at the shoulders.
You will then be asked to get on the treatment couch so that you can have the remaining substance applied to the rest of your body, which will start from the soles of your feet and continue right up to the bottom of your neck. Then you will be wrapped in cellophane and covered with a heated blanket. This is your chance to lie back and relax. After approximately 20 – 40 minutes, you will then be unwrapped and directed to wash it all off under a shower.
You will then be allowed to rest for 20 minutes, giving your body the chance to assimilate the full benefits of the treatment, after which you will be lightly massaged with nourishing oil.
Although the main purpose of body wrapping is to help get rid of area of cellulite, improve the aspect of sagging skin, reduce the appearance of stretch marks and mainly help with weight loss, there are other benefits too such as helping to stimulate your circulation and increase your metabolic rate which in turn will give you more energy. Seaweed wraps will help detoxify the skin and body and in general give a person a feeling of all over well being.
The relaxing aspect of the treatment cannot be ignored, and many people will look upon the treatment as their "pampering time", giving them the chance to unwind and forget about the normal stresses of life.
The best place to go for any type of body massage or wrapping is a day spa. A day spa will ask for very strict requirements from the staff they take on. They make stringent checks on their references and qualifications and you will find that they will keep a record of these and the proof of insurance on their files. Once you have found someone that you are happy to work with, you may be offered a discount on repeated sessions.
Wrapping your whole body is not always necessary. If you have any other concerns about any aspect of your body, for example, your legs, then you can be treated for just those alone. Some people choose to have a face wrap. In fact most any part of the body can be treated and each treatment will improve the firmness and texture of the skin.
Whether you go to a spa for your treatment or you have chosen to try a seaweed wrap at home you must remember that one of the benefits of the treatment is that it removes toxins from your body. To get the maximum gain from your treatment it is wise to stay away from any form of caffeine, sugars, fried foods and alcohol and to drink at least four to six glasses of water within the next 24 hours to help rehydrate your body.
Seaweed wraps are also excellent short term solutions to getting rid of excess body fat when you are desperate to look good for that special occasion. Be warned: although it is a quick fix to getting rid of those extra inches, the result is only transient. As soon as you rehydrate your body the size benefits can quickly disappear.
To take advantage of the benefits of weight loss associated with seaweed wraps you must find a reputable salon specialist who will work with you for at least six to eight weeks once or twice a week. Combined with a healthy diet and regular consistent exercise, the benefits can be incredible.